The museum visit is only possible with a 2G proof (certificate of vaccination or recovery).
This applies to visitors aged 12 and over. 3G applies to children aged 6 to 12 (tested, vaccinated, recovered)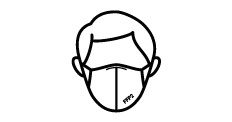 Wearing an FFP2 face mask is required for the duration of the visit.
For underaged visitors the following rules are in place: 0-5 years - no mask required / from 6 years on – face mask required / from 14 years on - FFP2 mask required.
Kunsthistorisches Museum Wien
Digitale Kunst- und Kulturvermittlung
Entdecken Sie unser digitales Angebot aus der Kunst- & Kulturvermittlung!
Wir sehen uns #live
Lassen Sie sich von uns auf eine virtuelle Reise ins Reich der Kunst und Kultur mitnehmen. Wir begleiten Sie durch unsere Sammlungen und Sonderausstellungen in spannenden Live Touren.
Weitere Museen
Theatermuseum
Weltmuseum Wien