Ganymed in Power 2021
Entrance ticket

Rediscover the old masters, experience art with all your senses, change your view! Theatre, Music, Dance and Performance invite you to explore the today in the yesterday in the picture gallery of the Kunsthistorisches Museum. Let yourself be seduced and become part of a breathtaking performance.

Entry at 6.15 pm, showtime at 7.00 pm.
All prices include 5% VAT.
PLEASE NOTE that the tickets can not be returned or refunded!

If you require more information, please call us or simply send us an e-mail. phone +43 1 525 24-2500, ticket@khm.at
Article Nr.: 200000000001048-T019-01

The museum visit is only possible with a 2G proof (certificate of vaccination or recovery).
This applies to visitors aged 12 and over.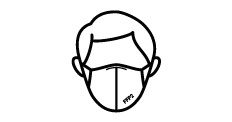 Wearing an FFP2 face mask is required for the duration of the visit.
For underaged visitors the following rules are in place: 0-5 years - no mask required / from 6 years on – face mask required / from 14 years on - FFP2 mask required.