Kinder Atelier-KHM
Guided Tour
Wir treffen uns in unserem Atelier: Jedes Mal gibt es etwas anderes zu entdecken. Gehen wir doch gemeinsam auf Weltreise durch das Museum! Oder spüren wir den Heldinnen und Helden der Antike nach. Und waren all die Statuen in dieser Zeit wirklich so blass? Mach deine eigenen Naturabgüsse, wie sie auf berühmten Werken der Kunstkammer zu finden sind. Oder lass die Figuren in der kleinen Theaterbühne tanzen, die wir den Bildern Pieter Bruegels nachempfunden haben. Ganz bestimmt ist auch für dich etwas dabei!
Unser Atelier findet von 14 bis 16:30 Uhr für Kinder von 6 bis 12 Jahren statt.
Bitte beachten Sie: bereits gekaufte Tickets können weder umgetauscht noch refundiert werden.
Preis inkl. 10% USt.
Article Nr.: 200000000001259-T144-01

The museum visit is only possible with a 2G proof (certificate of vaccination or recovery).
This applies to visitors aged 12 and over. 3G applies to children aged 6 to 12 (tested, vaccinated, recovered)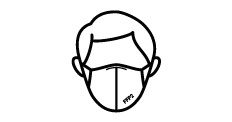 Wearing an FFP2 face mask is required for the duration of the visit.
For underaged visitors the following rules are in place: 0-5 years - no mask required / from 6 years on – face mask required / from 14 years on - FFP2 mask required.