midday guided tour KHM
Guided Tour
Sie können diesen kurzen Betrachtungen über zwei Monate hinweg wöchentlich folgen, denn sie stehen unter einem gemeinsamen Motto. Doch auch ein einzelner Besuch – vielleicht sogar in Ihrer Mittagspause – lohnt sich.
Beginn 12.30 Uhr, Dauer ca. 30 Minuten.
Führung in deutscher Sprache.
Bitte beachten Sie: bereits gekaufte Tickets können weder umgetauscht noch refundiert werden.
Preis inkl. 10% USt.
Article Nr.: 200000000001266-T157-01

The museum visit is only possible with a 2G proof (certificate of vaccination or recovery).
This applies to visitors aged 12 and over. 3G applies to children aged 6 to 12 (tested, vaccinated, recovered)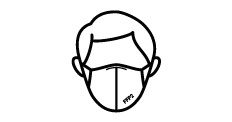 Wearing an FFP2 face mask is required for the duration of the visit.
For underaged visitors the following rules are in place: 0-5 years - no mask required / from 6 years on – face mask required / from 14 years on - FFP2 mask required.