Guided Tour Imperial Carriage Museum
Guided Tour
Erleben Sie im Rahmen einer Überblicksführung die hochaktuelle Ausstellung Coronas Ahnen, sowie die faszinierende Welt des Wiener Hofes, der Jahrhunderte lang für seine prachtvollen Fahrzeuge berühmt war. Entdecken Sie, wie der Kaiser zur Krönung fuhr, wie er reiste, mit welchen Kutschen seine Kinder spielten, wie er zur Jagd fuhr, wie sein flotter Sportwagen aussah und wie er schließlich begraben wurde.
Eintritt ist im Führungsticket inkludiert!
Preis inkl. 10% USt.
Article Nr.: 200000000004091-T178-01

The museum visit is only possible with a 2G proof (certificate of vaccination or recovery).
This applies to visitors aged 12 and over. 3G applies to children aged 6 to 12 (tested, vaccinated, recovered)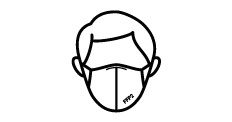 Wearing an FFP2 face mask is required for the duration of the visit.
For underaged visitors the following rules are in place: 0-5 years - no mask required / from 6 years on – face mask required / from 14 years on - FFP2 mask required.