Weltmuseum Wien Kurzführung
Führung
Unsere Kulturvermittler*innen begleiten Sie in interessanten Kurzführungen zu unterschiedlichen Themen durch das Weltmuseum Wien. Lassen Sie sich auf eine spannende Reise entführen.
Die Führung findet analog vor Ort statt.

Preis inkl. 10% USt.
Article Nr.: 200000000006204-T222-01

The museum visit is only possible with a 2G proof (certificate of vaccination or recovery).
This applies to visitors aged 12 and over. 3G applies to children aged 6 to 12 (tested, vaccinated, recovered)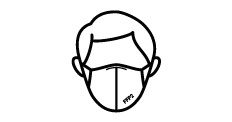 Wearing an FFP2 face mask is required for the duration of the visit.
For underaged visitors the following rules are in place: 0-5 years - no mask required / from 6 years on – face mask required / from 14 years on - FFP2 mask required.