Veranstaltung IFANT
entrance ticket
24 junge Menschen performen, um Vergängliches in der persönlichen und kollektiven Erinnerung zu verankern. Als Ausgangspunkt für ÜBER.GÄNGE dienen die verlängerte Ausstellung "Groteske Komödie" sowie die kommende Ausstellung "Verehrt…begehrt…." Die Performer*innen ziehen feine thematische Fäden zu ihren eigenen Biografien und zu gesellschaftlichen Themen der Ausstellung.
Mit Studierenden des Instituts angewandtes Theater IFANT.

Die Vorstellung findet im Museum statt.
Preis inkl. 10% USt.
Article Nr.: 200000000007076-T227-01

The museum visit is only possible with a 2G proof (certificate of vaccination or recovery).
This applies to visitors aged 12 and over. 3G applies to children aged 6 to 12 (tested, vaccinated, recovered)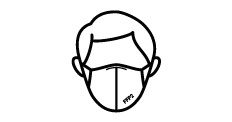 Wearing an FFP2 face mask is required for the duration of the visit.
For underaged visitors the following rules are in place: 0-5 years - no mask required / from 6 years on – face mask required / from 14 years on - FFP2 mask required.